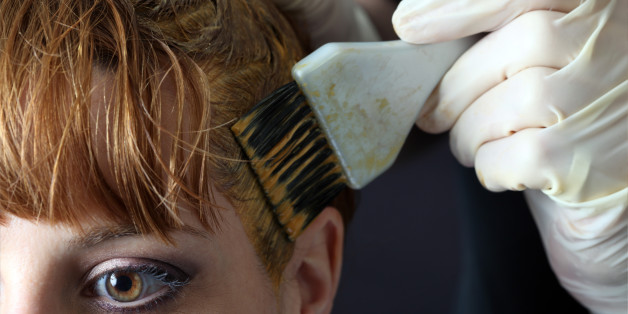 In spite of all of the niche hair salons that have been popping up, from braid bars to blowout salons to braid studios, professional hair dye jobs still drive the beauty industry. But we've been rethinking the treatment after being scarred by this beauty horror story.
So we asked cosmetic chemist Ni'Kita Wilson, chief executive officer of Catalyst Cosmetic Development and Elizabeth Cuannane Phillips, Philip Kingsley's trichological expert, to explain what hair dye is really doing to our hair.
For hair dye to work, ammonia literally lifts up your hair cuticle…
Hair dye has a couple of barriers that it has to overcome before it actually deposits the color onto your hair. "It needs to be able to get into the hair shaft, and obstacle one is the cuticle, which is the hair's protection," explains Wilson. "If you think how tree bark has that outer covering, that is almost how our cuticle acts. So in order for [dye] to penetrate through the cuticle, it has to be lifted up." Enter, ammonia. This chemical elevates the pH of the hair, and in doing so, the cuticle relaxes and lifts up. "The problem with that is once you've disturbed the cuticle, the damage has started because the cuticle is not meant to be lifted up," says Wilson.
… and peroxide destroys your current color.
Now that the cuticle is lifted, the next step is to actually dye the hair. "In order to get the color that you wanted, your current color has to be destroyed," according to Wilson. "That's where the peroxide comes in, and that breaks down your natural hair pigment. Peroxide is very drying on the hair, which contributes to the damage of the hair. Now the cuticle is lifted, your pigment has been broken down, so now your hair should be straw-like."
Now the color from the dye has to be developed, and that's the pre-mix that you do. "You put that in and while it's sitting, it's going into the hair strand and beginning to develop. Keep in mind that your cuticle is lifted for however long you have before you rinse, and the dye is penetrating into your open cuticle and hair shaft. The longer your cuticle is lifted up, the more it's weakening. Once you rinse, your cuticle comes down because the color has deposited, but the damage is already done," says Wilson.
Allergic reactions are rare, but definitely worth testing for.
Allergic reactions to hair dye is pretty frightening, but they are also very rare. "It's estimated that four in one million people are sensitive to hair dyes. But they can happen and so you need to be careful," says Cuannane Phillips. "The small percentage of risk tends to put people off from doing a patch test, but we can't stress enough the importance of doing a test for safe coloring."
To do a patch test, Cuannane Phillips suggest applying a small amount of the dye to the underside of your wrist or to the back of your ear. Then wait 24 hours to monitor any reaction. She explains, "People usually only do a patch test the first time they color their hair, or when changing a color. However, if you want to be safe, a test should be done before every color application as an allergy can develop between uses."
Beauty myths that we've debunked (or proven true):
PHOTO GALLERY
Beauty Myths
Want more HuffPost Style beauty content? Check us out on Twitter, Facebook, Tumblr, Pinterest and Instagram. (For everything else check out our main HuffPost Style Twitter, Tumblr, Pinterest and Instagram @HuffPostStyle.)
—
Do you have a beauty story idea or tip? Email us at beautytips@huffingtonpost.com. (PR pitches sent to this address will be ignored.)