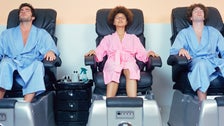 Michele Green, a New York-based cosmetic dermatologist and RealSelf contributor, said there are a few potential dangers in pedicure tubs that you should keep in mind.
"There are lots of possible infections that lurk inside the foot basin, including bacteria, fungi and wart viruses," she explained. "If you get an infection following a pedicure, you should consult your dermatologist, since the area may need to be drained and you may need to be put on oral antibiotics."
Green added that you may also be at risk for a specific type of infection if your nail technician uses unclean instruments or if you're soaking in dirty water. The condition, called a paronychia infection, affects the nail bed and can be painful. It's accompanied by tender, red skin and pus-filled blisters.
And, according to the U.S. Centers for Disease Control and Prevention, there have been incidents of infections from pedicures that left lasting effects, such as boils or scars. 
Gross, right? Luckily, there are some simple precautions you can take to ensure you don't bring back any nasty souvenirs from your spa visit. Take a look at some expert advice below:
Skip the shave.
One safety measure starts before you even leave your house.
"Shave your lower legs after getting a pedicure, not before," advised the American Academy of Dermatology in a nail safety note. "That means not shaving your lower legs for at least 24 hours before you get a pedicure. If you nick yourself while shaving, a pedicure could put you at risk for an infection."
Technicians have seen it all and won't be offended by fuzzy legs at your appointment. It's also a good idea to postpone your pedicure if you're dealing with any previous injuries, according to Asma Ahmed, a New Jersey-based double board-certified dermatologist.
"Do not get a pedicure if you have any cuts, bug bites, rashes or open wounds," Ahmed said.
Bring your own tools.